have been in my blood since the very beginning, literally.
At the age of 15 I looked forward to getting my drivers license and saved every dollar I earned to purchase my first car. Considering I was a product of my environment, a young surfer and skateboarder with limited means the choice for my first car was simple, a Split Windshield VW Bus. By the age of 17 I bought my first Bus and the disease took hold. Fast forward to the present day and I've now owned approximately 40 Split Buses, a few early Beetles, one of the earliest Karmann Ghias in existence, and a handful of very nice 1960's Chevys. Hey, I never said I never deviated from Volkswagens, I'm a car guy with love and respect for all kinds of cool old rides.
I've made it a personal mission to absorb as much information as possible about early Buses and having done so have become a wealth of knowledge about them. Hands on experience, tending to my own personal collection, attending far too many car shows to count, being surrounded by them at every turn with most of my closest friends having car collections of their own… It all brings me to where I am now, a valuable resource of information, perspective, experience, and very specialized knowledge. Let me help you out with your substantial Vintage Volkswagen investment. Don't find yourself making costly bad decisions when experienced guidance is available to you.
My Mom laughingly swears that I was conceived in the back of my parents old Anthracite 1962 Beetle back in 1971 and, interestingly, my Dad doesn't care to comment on such activities. Having spent my entire life here in Southern California I have always been very much in love with the indigenous laid back
lifestyle, fun in the sun, and the cultural icon that is the Vintage Volkswagen.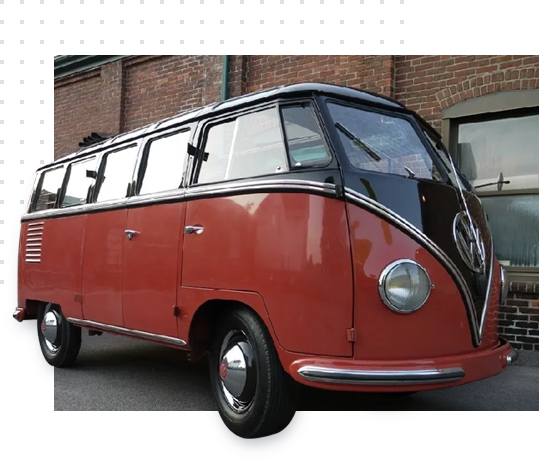 Some of the services I provide include:
Cars For Sale
Listing and International Promotion of Cars For Sale
Ad Writing Services
Pre Purchase Vehicle Inspections/Review
Vehicle and Collection Valuation
Helping Locate Your Dream Car
Technical Advising
and so much more!
Let our vast experience and knowledge help guide you towards the cool ride you are after.